Yes i hate my college, you take away my friends from the college.. and there is nothing left …. I hate it and i have  reasons to hate it…and they are not studies
Lemme List Out a few.
1. They take stupid judgements and boss around for the fact they can suspend students without a reason. I was suspended for a week for holding a ball in the corridor. Not just that, have a look at the suspension letter… It gives some interesting facts.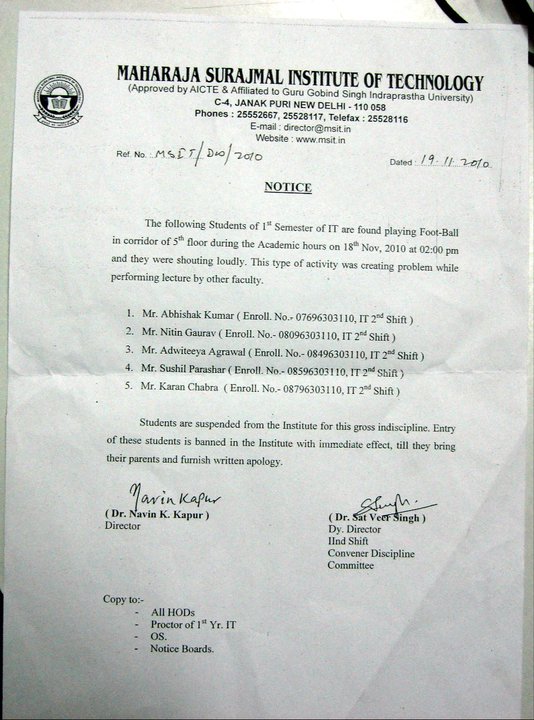 Shoutling Loudly, at 2:00 pm, problem to other faculty members. SERIOUSLY! THERE WAS NO OTHER CLASS GOING ON. AND ITS WAS 5:00 pm and shouting loudly… yeah sure!. When the same was pointed out to the discipline committee they said "arrey aap koi case thodi lad rahe ho"
2. They do not care about your future. My friend had to do an internship under a professor of IIT who were to come to msit for 3 weeks, my college asked the students to pay for his residence in the college and for his travel. The professor strictly said no to this as off course he too had not experienced this anywhere else. Plus when being requested, the management said "Arrey tumhe or kahi nahi mil rahi kya internship."
They dont posses any sort of manners etc. I fail to understand what do they expect from us after this.
3. every year more than two hundred lakh rupees goes into other expenses. Check out the following data.
| | | | |
| --- | --- | --- | --- |
| Income | Rs. In Lakh | Expenditure | Rs in Lakh |
| Grants in Aid | | Salaries and Allowances: | |
| State Government | | Teaching Staff | |
| UGC | | Other Staff | |
| Other Agencies | |                                      Total | 242 Lakh |
|                                             Total | | Scholarships | |
| Donation and Contribution | | Books & Journals | 8 Lakh |
| Fees from students | 565  Lakh | Equipment and Labs | 43 Lakh |
| Other Sources | | Maintenance & utilities | 5 Lakh |
| | | Other Expenses | 267 Lakh |
|                           Total Income | 565 Lakh |                           Total Expenses | 565 Lakh |
And these are the statistics for 2008 the fees has increased quite a bit after that.
Download link for detailed file: File (browse to the bottom)
4. They told the organizing team of avensis that only a particular amount of the sponsorship will be given to them …that is even if you get 50 lakh rupees you would be given only 3 lakh. Yeah this is why we cannot get the "crowd" to our college. Also had to get everything in kind.
5. They humiliate parents.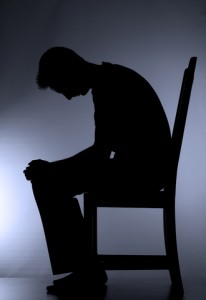 My friends were suspended because they opened their lunch boxes during the short time when a period changes and there is no teacher in the class. Their parents were called and made to wait for hours before they could meet the committee … also the students went up and down the entire week requesting authorities to take back the suspension. Even if they had broken a glass window i could have accepted this, but here the reason they stated was just unacceptable.
6. For attendance issues they devised their own intuitive methods on who to suspend and who not to. When a case was filled by one of the students who was suspended, it hurt their ego rather than their minds. And everybody was suspended again. Well till now what i have come to know is that they really do not want to punish you rather mentally torture you to your limits. And yes this was done in the first week of the semester exams.
7. They have discriminated the entire second shift as a diffrent college and I am quoting the words of a member of many departments of the college. "Aap ye man k chalo aap is college ka hissa nahi ho".
I still remember when last semester their were a large number of students being suspended.. for second shift students below 65% were suspended however in morning shift. less than 40% attendance. FTW!!
8. They do not give importance to extra curricular and students go on begging for attendance for events that are organised within the colleges. I know this happens in every college that extra curricular becomes a responsibility of the students, however here i talk about the official events… Also when once i tried to get attendance for an official event… (Certificate distribution) I was asked for a written permission from the director. Well yeah.. here's the permissions… F U!
9. I remember i had read that taking a photo graph or movie of a person without permission was illegal.
10. They talk about discipline as of great concern… Lets talk about the 5 honeycombs…homing 1000 bees each on the front wall of the college. Well now 3 of them were cleared. I was shocked at this progress, i am sure one of the management members was bitten after which such a step was taken.
11.I won the best technical event award in the college but neither do i have a proof nor acknowledgement of the same… I hope the cost they saved in printing a certificate helped in their "all round development".
Sometimes I feel like taking a revenge from the college but the unordered distribution of staff… in terms of "how good/bad" they are…makes me not do it… and what i would do is… simple ask for two documents under my right to information from the college.
1. List of all the students that have been suspended ever by the college and reason.
2. Accounts for each penny spent.
After all this that I said I am not sure if someone from the management reads this will I be in the college or not. Its my right to express my views. Its my website. Its more secure than msit.in.
by Adwiteeya Agrawal